Rower Connection: Todd Cooperman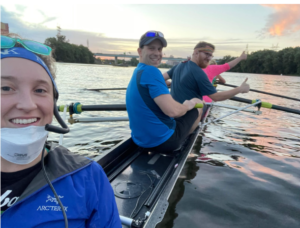 How did you find the sport of rowing? Or did it find you?
Ever since I was very young, I have always been attracted to the water.  The irony of this attraction is that I do actually get sea sick when I am in the ocean, but only when standing still (for the benefit of the person sitting in front of me the next time we row).  I remember in college meeting several teammates who convinced me to try out for the team.  That is how my rowing journey started in college. Thinking back on the experience, I mostly remember the early days of getting up in the dark and having to drive down to the boathouse.  Since we were a club sport, we did not have the funds for those fancy fiberglass boats, instead we opted for traditional wooden boats.  Those were the good ole days.
What do you enjoy most about the sport? What do you enjoy most about FVRA? What keeps you coming back for more?
If I think about what I enjoy the most about the sport I would say that it is a couple of main things.  The first is the act of rowing, which has a Zen-like quality where I find myself just being the act and letting the worries of the day just float back into my unconsciousness. The second item I really enjoy, which ties back to my time in college, is the team.  Other sports have teams, but in rowing, the team is one (Crew) and there is no one "superstar" player, it's an all in (unless you're sculling alone, then this does not apply, and you may be a superstar). Finally, I am a runner and the act of doing highly aerobic exercise is important to me both physically and mentally, and rowing allows me to do that with others.
I started with FVRA in the summer of 2022, so I am a newbie to the team.  But from my first day I knew that there was something different here.  Everyone was very supportive and willing to accept new people into the team. I felt so comfortable in this new community that I decided to join the racing team later that summer, and it's the same feeling.  
Do you have any rowing-related goals for the 2023 season? What are they?
Before joining FVRA, I had only sweeped.  Joining the group has allowed me to learn how to scull in both singles and multi-person boats.  I am very much a novice, but my goal for this summer includes building off this initial experience and continuing to improve my sculling skills.  In addition, I am looking forward to working with the racing team to further develop our team for the upcoming season.
Are you facing any challenges in the sport, and how are you overcoming them?
My biggest challenge within the sport is myself.  Rowing is technical and when you mix that with someone who has a personality which is always looking to improve, it can be frustrating at times.  But the challenge is fun, so I keep coming back for more.
Do you have any advice for someone who wants to start rowing?
Just do it!  Rowing is what you make it and it does not have to be for racing, it's just an awesome way to be on the water and enjoy nature.  Having a group like FVRA with you will make it that much more fun!